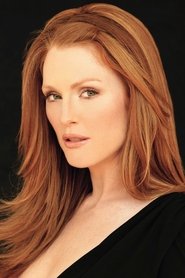 PROFILE |
NEWS
Julianne Moore (born Julie Anne Smith; December 3, 1960) is an American actress and author. Prolific in film since the early 1990s, she is particularly known for her portrayals of emotionally troubled women in both independent and blockbuster films, and has received many accolades, including an Academy Award, a British Academy Film Award and two Golden Globes. Time magazine named Moore one of the 100 most influential people in the world in 2015.
After studying theatre at Boston University, Moore began her career with a series of television roles. From 1985 to 1988, she was a regular in the soap opera As the World Turns, earning a Daytime Emmy Award for her performance. Her film debut was in Tales from the Darkside: The Movie (1990), and she continued to play small roles for the next four years, including in the thriller The Hand That Rocks the Cradle (1992). Moore first received critical attention with Robert Altman's Short Cuts (1993), and successive performances in Vanya on 42nd Street (1994) and Safe (1995) continued this acclaim. Starring roles in the blockbusters Nine Months (1995) and The Lost World: Jurassic Park (1997) established her as a leading lady in Hollywood.
Moore received considerable recognition in the late 1990s and early 2000s, earning Oscar nominations for Boogie Nights (1997), The End of the Affair (1999), Far from Heaven (2002) and The Hours (2002). In the first of these, she played a 1970s pornographic actress, while the other three starred her as an unhappy, mid-20th century housewife. She also had success with the films The Big Lebowski (1998), Magnolia (1999), Hannibal (2001), Children of Men (2006), A Single Man (2009), The Kids Are All Right (2010), and Crazy, Stupid, Love (2011), and won an Emmy Award for her portrayal of Sarah Palin in the television film Game Change (2012). Moore won the Academy Award for Best Actress for her playing an Alzheimer's patient in Still Alice (2014) and was named Best Actress at the Cannes Film Festival for Maps to the Stars (2014). Her highest-grossing releases include the final two films of The Hunger Games series and the spy film Kingsman: The Golden Circle (2017).
In addition to acting, Moore has written a series of children's books about a character named "Freckleface Strawberry".
Description above from the Wikipedia article Julianne Moore, licensed under CC-BY-SA, full list of contributors on Wikipedia.
MOVIE CREDITS:
1999: Linda Partridge -
Magnolia
1993: Marian Wyman -
Short Cuts
2004: Telly Paretta -
The Forgotten
2002: Cathleen "Cathy" Whitaker -
Far from Heaven
2007: Barbara Baekeland -
Savage Grace
2008: Doctor's Wife -
Blindness
1995: Carol White -
Safe
2004: Marie -
Marie and Bruce
2005: Evelyn Ryan -
The Prize Winner of Defiance, Ohio
2010: Cara Harding -
6 Souls
2010: Jules -
The Kids Are All Right
2012: Sarah Palin -
Game Change
2000: Auditor / Mouth -
Not I
2013: Susanna -
What Maisie Knew
2014: Havana Segrand -
Maps to the Stars
2013: Linda Sinclair -
The English Teacher
2011: Herself -
Florent: Queen of the Meat Market
2014: Dr. Alice Howland -
Still Alice
2018: Gloria Bell -
Gloria Bell
2020: Gloria Steinem -
The Glorias
2018: Roxanne Cross -
Bel Canto
2019: Theresa -
After the Wedding
2019: Francesca -
The Staggering Girl
1997: Sarah Harding -
The Lost World: Jurassic Park
2002: Laura Brown -
The Hours
1997: Maggie alias Amber Waves -
Boogie Nights
2004: Audrey Woods -
Laws of Attraction
1995: Rebecca Taylor -
Nine Months
2001: Wavey Prowse -
The Shipping News
1994: Yelena -
Vanya on 42nd Street
2001: Dr. Allison Reed, CDC -
Evolution
1999: Cora Duvall -
Cookie's Fortune
2001: Clarice M. Starling -
Hannibal
2006: Brenda Martin -
Freedomland
2009: Charley -
A Single Man
2009: Catherine Stewart -
Chloe
2005: Rebecca -
Trust the Man
2014: Mother Malkin -
Seventh Son
2011: Emily Weaver -
Crazy, Stupid, Love.
2002: Dulcie -
World Traveler
2013: Margaret White -
Carrie
2014: Jen Summers -
Non-Stop
2015: Laurel Hester -
Freeheld
2007: Callie Ferris -
Next
2017: Margaret Lodge / Rose -
Suburbicon
2014: Herself -
Creating Carrie
When You Finish Saving The World
Sharper
Joy Mothertrucker -
Mothertrucker
1993: Sharon Dulaney -
Body of Evidence
1999: Sarah Miles -
The End of the Affair
1998: Lila Crane -
Psycho
1995: Electra -
Assassins
1996: Dora Maar -
Surviving Picasso
1991: Connie Stone -
Cast a Deadly Spell
1999: Theresa Collins -
A Map of the World
2012: Jody Flynn -
Being Flynn
1997: Mia -
The Myth of Fingerprints
2013: Esther -
Don Jon
1995: Beth Holzeck -
Roommates
2014: Herself -
Altman
2016: Georgette Nørgaard -
Maggie's Plan
2017: Poppy Adams -
Kingsman: The Golden Circle
2017: Lillian Mayhew -
Wonderstruck
2002: Herself -
The Making of Far From Heaven
1998: Maude Lebowski -
The Big Lebowski
2007: Alice -
I'm Not There
1993: Ruthie -
Benny & Joon
2009: Kat -
The Private Lives of Pippa Lee
1999: Mrs. Laura Cheveley -
An Ideal Husband
2006: Julian Taylor -
Children of Men
2008: ARIIA (voice) -
Eagle Eye
1992: Elinor -
The Gun in Betty Lou's Handbag
2000: Herself -
That Moment: Magnolia Diary
Jane Russell -
The Woman in the Window
2016: Herself -
Pawns, No More: The Making of The Hunger Games: Mockingjay, Part 2
Fruitcake
1990: Susan (segment "Lot 249") -
Tales from the Darkside: The Movie
2015: President Alma Coin -
The Hunger Games: Mockingjay - Part 2
2005: Herself -
The Naked Brothers Band: The Movie
1992: Marlene Craven -
The Hand that Rocks the Cradle
2014: President Alma Coin -
The Hunger Games: Mockingjay - Part 1
2015: Herself -
The Mockingjay Lives: The Making of the Hunger Games: Mockingjay Part 1
2000: Herself -
Psycho Path
2017: Herself -
Alec Baldwin: One Night Only
1997: Herself -
Making the 'Lost World'
1993: Herself -
Luck, Trust & Ketchup: Robert Altman in Carver Country
Heidi Hansen -
Dear Evan Hansen
2011: Herself - Narrator (voice) -
A Child's Garden of Poetry
2000: Audrey -
The Ladies Man
2014: Woman in Club -
9 Kisses
2011: Virgin Mary -
Elektra Luxx
1993: Dr. Anne Eastman -
The Fugitive
2007: The Mistery Woman -
Vanity Fair: Killers Kill, Dead Men Die
1998: Julianne Moore -
Welcome to Hollywood
1997: Distraught Woman -
Chicago Cab
TV CREDITS:
1983:
Live with Regis and Kathie Lee
1997:
The View
1993:
Late Night with Conan O'Brien
2006: Nancy Donovan -
30 Rock
1994:
Inside the Actors Studio
1952:
Today
1996:
The Daily Show with Trevor Noah
2003:
The Sharon Osbourne Show
1992:
The Tonight Show with Jay Leno
2002:
Ant & Dec's Saturday Night Takeaway
1999:
The Early Show
1987: India West -
I'll Take Manhattan
1953:
The Academy Awards
1989:
B.L. Stryker
1975:
Saturday Night Live
2003: Herself - Guest -
The Ellen DeGeneres Show
1966: himself -
Goldene Kamera Verleihung
2019:
The Movies
Lisey Debusher Landon -
Lisey's Story
2007: Self -
The Graham Norton Show