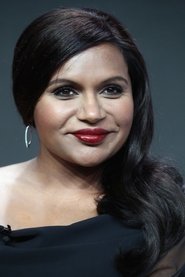 PROFILE |
NEWS
Vera Mindy Chokalingam (born June 24, 1979), known professionally as Mindy Kaling, is an American actress, comedian, and writer. She rose to prominence in 2005 for her work on the NBC sitcom The Office, where she portrayed Kelly Kapoor and served as a writer, executive producer, and occasional director throughout most of the series' run. Kaling created, wrote, produced, and starred in the Fox/Hulu sitcom The Mindy Project, which ran for six seasons from 2012 to 2017. Kailing's film career includes voice work in the films Despicable Me (2010), Wreck It Ralph (2012), Inside Out (2015) and starring roles in the fantasy adventure A Wrinkle in Time and heist-comedy Ocean's 8, both 2018.
Description above from the Wikipedia article Mindy Kaling, licensed under CC-BY-SA, full list of contributors on Wikipedia.
MOVIE CREDITS:
2010: Tourist mom (voice) -
Despicable Me
2012: Vaneetha -
The Five-Year Engagement
2011: Herself -
Nick Kroll: Thank You Very Cool
2013: Herself -
This Is the End
2015: Disgust (voice) -
Inside Out
2012: Taffyta Muttonfudge (voice) -
Wreck-It Ralph
2005: Amy -
The 40 Year Old Virgin
2007: Shelly -
License to Wed
2006: Restaurant Hostess -
Unaccompanied Minors
2009: Docent -
Night at the Museum: Battle of the Smithsonian
2011: Shira -
No Strings Attached
2015: Disgust (voice) -
Riley's First Date?
2015: Disgust (voice) -
Mind Candy
2015: Sarah -
The Night Before
2018: Mrs. Who -
A Wrinkle in Time
2017: Narrator (voice) -
100 Years
2018: Amita -
Ocean's Eight
2019: Molly Patel -
Late Night
Hostage #3 -
Threat Level Midnight
TV CREDITS:
2005:
The Office
2005: Kelly Kapoor -
The Office
1993:
Late Night with Conan O'Brien
1996:
The Daily Show with Trevor Noah
2008:
House Poor
1975:
Saturday Night Live
2015: Herself -
The Muppets
2012: Mindy Lahiri -
The Mindy Project
2018: Priya -
Champions
2003:
The Ellen DeGeneres Show
1997: Herself -
The View
2002: Herself -
Sucré Salé