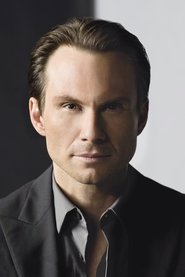 PROFILE |
NEWS
Christian Michael Leonard Slater (born August 18, 1969) is an American actor. He made his film debut with a small role in The Postman Always Rings Twice before playing a leading role in the 1985 film The Legend of Billie Jean. He then played a monk's apprentice alongside Sean Connery in The Name of the Rose before gaining recognition for his breakthrough role in the cult film Heathers. In the 1990s Slater featured in many big budget films including Robin Hood: Prince of Thieves, True Romance, Interview with the Vampire: The Vampire Chronicles, Broken Arrow and Hard Rain. He was also featured in the cult film True Romance. Since 2000 Slater has combined work in the film business with television, including appearances in The West Wing and Alias. Slater was married to Ryan Haddon between 2000 and 2005; they had two children together. Slater has had widely publicized brushes with the law, including being sentenced to three months in jail for assault in 1997. Description above from the Wikipedia article Christian Slater, licensed under CC-BY-SA, full list of contributors on Wikipedia.
MOVIE CREDITS:
1993: Clarence Worley -
True Romance
1989: Brian Kelly -
Gleaming the Cube
1998: Robert Boyd -
Very Bad Things
2007: Bob Maconel -
He Was a Quiet Man
2005: Tom Hanson -
The Deal
2004: Daniel Clemens -
The Good Shepherd
1996: Lewis Farrell -
Bed of Roses
2002: Taylor -
Hard Cash
1991: Charlie 'Lucky' Luciano -
Mobsters
2009: Wes Wilson -
Lies & Illusions
1990: Mark Hunter -
Pump Up the Volume
1995: James Stamphill -
Murder in the First
2005: Edward Carnby -
Alone in the Dark
2006: Michael Griffin -
Hollow Man II
1993: Adam -
Untamed Heart
2001: Trevor Allen Finch -
Who Is Cletis Tout?
1992: George Kuffs -
Kuffs
2004: Winston Churchill -
Churchill: The Hollywood Years
2004: Vincent Palmer -
Pursued
2009: Jimmy Dolan -
Dolan's Cadillac
1997: Julian Po -
Julian Po
1986: Mark Collins -
Twisted
2012: Craig Mackenzie -
Soldiers of Fortune
2012: Robert -
Assassin's Bullet
2012: Skip Gibbs -
Freaky Deaky
2013: Michael -
Assassins Run
2013: Col. Gerard Brauchman -
Stranded
2018: Floyd Lawton / Deadshot (voice) -
Suicide Squad: Hell to Pay
1989: Jason "J.D." Dean -
Heathers
1998: Tom -
Hard Rain
2007: Moses (voice) -
The Ten Commandments
1994: William -
Jimmy Hollywood
1996: Capt. Riley Hale -
Broken Arrow
2008: Pollen -
Love Lies Bleeding
1998: John Mannion -
Basil
1985: Binx Davy -
The Legend of Billie Jean
2011: Gordon -
Without Men
2011: Agent Vuckovitch -
The River Murders
1989: Eric Michaels -
Beyond the Stars
2011: Father Porter -
Sacrifice
2012: John -
Dawn Rider
2012: Governor Bramlette -
Hatfields and Mccoys: Bad Blood
2011: John Smith -
Guns, Girls and Gambling
2014: Henry -
Way of the Wicked
2014: Paul Spooner -
Ask Me Anything
2016: Stephen (Bryan Kocis) -
King Cobra
2017: The Wolf -
The Wolf
1986: Adso of Melk -
The Name of the Rose
1990: Andy (segment "Lot 249") -
Tales from the Darkside: The Movie
2006: Narrator -
Crossing the Line
1991: Will Scarlett -
Robin Hood: Prince of Thieves
1992: Pips (voice) -
FernGully: The Last Rainforest
2012: Frank Lyons -
Playback
2012: Lieutenant West -
El Gringo
2013: Clyde -
The Power of Few
2014: Lazer Lord (voice) -
Stan Lee's Mighty 7
2018: Nathaniel Bone -
The Wife
We Can Be Heroes
1989: Nick Woods -
The Wizard
2000: Reginald Webster -
The Contender
2001: Hanson -
3000 Miles to Graceland
1990: Arkansas Dave Rudabaugh -
Young Guns II
2012: Delgado -
Rites of Passage
2016: Hans Reiser -
The Adderall Diaries
1994: Daniel Malloy -
Interview with the Vampire
2013: Joe's Father -
Nymphomaniac: Vol. I
1992: Social Worker (uncredited) -
Where the Day Takes You
1981: uncredited -
Sherlock Holmes: The Strange Case of Alice Faulkner
1988: Junior -
Tucker: The Man and His Dream
2013: Marcus Baptiste -
Bullet to the Head
1989: Cliff Petrie -
Desperate for Love
2019:
The Public
2002: Sergeant Peter Henderson -
Windtalkers
2012: Jack (voice) -
Back To The Sea
2007: Ray / Matt Dobbs / Patrolman #2 -
Slipstream
2004: J.D. Reston -
Mindhunters
2017: Dereck McKinley -
La Cordillera
1983: Walt Willey -
Living Proof: The Hank Williams, Jr. Story
2015: Leeyoon (English) -
Mune, le gardien de la lune
2008: Dr. Schadenfreude's Igor (voice) -
Igor
2014: Various -
Robot Chicken: Christmas Specials
2001: Himself -
Zoolander
2006: Daryl Timmons -
Bobby
2013: Joe's Father -
Nymphomaniac: Vol. II
2003: Crew Guy #1 -
Masked and Anonymous
2015: Choozy Doozy Host -
Hot Tub Time Machine 2
1991: Excelsior Communications Officer -
Star Trek VI: The Undiscovered Country
2000:
Saturday Night Live: A Tribute to Chris Farley
1998: Himself -
Saturday Night Live: The Best of Phil Hartman
1995: Himself -
Catwalk
1997: Easily Fooled Security Guard (uncredited) -
Austin Powers: International Man of Mystery
TV CREDITS:
1988:
This Morning
2002:
Top Gear
2005:
The Sunday Night Project
2001:
Friday Night with Jonathan Ross
1983:
Live with Regis and Kathie Lee
2001:
Alias
2002:
The Adventures of Jimmy Neutron: Boy Genius
2009: Slater -
Archer
2005:
The Office
1993:
Late Night with Conan O'Brien
2011: Oz -
Breaking In
1999:
The West Wing
1986:
L.A. Law
1984:
Tales from the Darkside
1997:
The View
1996:
The Daily Show with Trevor Noah
1992:
The Tonight Show with Jay Leno
2002:
Ant & Dec's Saturday Night Takeaway
1986:
Crime Story
2005:
8 out of 10 Cats
1985:
The Equalizer
2014: Ross Edwards -
Mind Games
2008: Henry Spivey / Edward Albright -
My Own Worst Enemy
1977:
ABC Weekend Special
1953:
The Academy Awards
2009: Alex Donovan -
The Forgotten
1984:
MTV Video Music Awards
1975: Himself - Host -
Saturday Night Live
1984: Himself - Host -
MTV Video Music Awards
1995:
The Harald Schmidt Show
2015: Mr. Robot -
Mr. Robot
2015: Himself - Mr. Robot -
Mr. Robot
2013: Maximus Renegade Star Soldier (voice) -
Rick and Morty
2015: Gurg -
Dawn of the Croods
2003: Christian Slater -
Two and a Half Men
2003: Narrator (voice) -
Dinosaur Planet
2018: Narrator - Himself -
Explained
1975: Himself (uncredited) -
Saturday Night Live
Randall Kirby -
Dr. Death