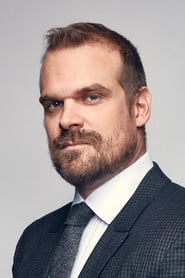 PROFILE |
NEWS
David Harbour is an American actor. Active since 1999, Harbour is perhaps best known for his role as Chief of Police Jim Hopper on the Netflix series Stranger Things (2016-present).
MOVIE CREDITS:
2008: Shep Campbell -
Revolutionary Road
2008: Gregg Beam -
Quantum of Solace
2006: David -
The Wedding Weekend
2010: Brian -
Every Day
2009: PointCorp Insider -
State of Play
2012: Ernest -
W.E.
2012: Van Hauser -
End of Watch
2012: Joel -
Between Us
2014: Ray -
A Walk Among the Tombstones
2014: Masters -
The Equalizer
2007: Dracula -
Awake
2011:
Thin Ice
2015: John Morris -
Black Mass
2007: Mulligan -
Midnight Son
2016: Dexter Tolliver -
Suicide Squad
2013: Gordon Shanklin -
Parkland
2017: Doug Dennison -
Sleepless
2005: Randall Malone -
Brokeback Mountain
2019: Hellboy -
Hellboy
2011: Frank Scanlon -
The Green Hornet
2018: Ronnie -
Human Affairs
TV CREDITS:
1999:
Law & Order: Special Victims Unit
2006:
The Book of Daniel
2001:
Law & Order: Criminal Intent
2013: Robert Dalton -
Banshee
1990:
Law & Order
2006:
The Unit
2009: Frank Ambrose -
Lie to Me
2014: David Potter -
Rake
2012: Dr. Mason Baldwin -
Elementary
2014:
State of Affairs
2011: Roger Anderson -
Pan Am
2016: Jim Hopper -
Stranger Things
2016: Vic -
Crisis in Six Scenes
2013: Vietnam Memorial Head -
Drunk History
2017: Himself -
Beyond Stranger Things