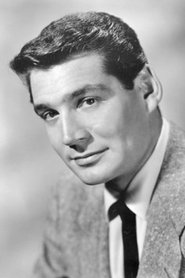 PROFILE |
NEWS
From Wikipedia, the free encyclopedia.
Gene Barry (June 14, 1919 – December 9, 2009) was an American stage, screen, and television actor. Barry is known for his portrayal of the title character in the TV series Bat Masterson, among many roles.
Description above from the Wikipedia article Gene Barry, licensed under CC-BY-SA, full list of contributors on Wikipedia.
MOVIE CREDITS:
1957: Jonathan Clark -
The 27th Day
1953: Dr. Clayton Forrester -
The War of the Worlds
1956: Frank Duncan -
The Houston Story
1952: Dr. Frank Addison -
The Atomic City
1957: Sgt. Brock -
China Gate
1958: Agent Casey Reed -
Hong Kong Confidential
1967:
Maroc 7
1968: Michael London -
Istanbul Express
1958: Roy Barrett, Treasury Agent -
Thunder Road
1953: Johnny Kisco -
Those Redheads from Seattle
1968: Michael A. Donovan -
Subterfuge
1971: Murray Jarvis -
Do You Take This Stranger?
1979: Abraham -
Abraham's Sacrifice
1971: Glenn Howard -
LA 2017
1954: Al Willis -
Naked Alibi
1953: Capt. Beaton -
The Girls of Pleasure Island
1955: Capt. Charles Laverne -
The Purple Mask
1971: Rankin -
The Devil and Miss Sarah
1968: Dr. Ray Flemming -
Columbo: Prescription: Murder
1954: Verne Williams -
Alaska Seas
1955: Louis Hoyt -
Soldier of Fortune
1979: Congressman Lee O'Brien -
Guyana: Crime of the Century
1957: Wes Bonell -
Forty Guns
1954: Rafael Moreno -
Red Garters
1956: Jud Ellis -
Back from Eternity
1974: Jackson Sinclair, the TV Commentator -
The Second Coming of Suzanne
1989: John Forrest -
Turn Back the Clock
2001: Mr. Stern -
These Old Broads
1980: Gordon Harris -
A Cry for Love
2005: Grandfather -
War of the Worlds
1987:
Perry Mason: The Case of the Lost Love
TV CREDITS:
1988:
My Secret Identity
1976:
Charlie's Angels
1995: Chief Amos Burke -
Burke's Law
1953:
General Electric Theater
1955:
Alfred Hitchcock Presents
1972:
The Adventurer
1960:
Pete and Gladys
1950:
Lux Video Theatre
1956:
The Steve Allen Show
1963: Captain Amos Burke -
Burke's Law
1985:
The Twilight Zone
1982:
Hotel
1984:
Crazy like a Fox
1988:
Paradise
1955:
The 20th Century Fox Hour
1964:
The Hollywood Palace
1968:
The Name of the Game
1955:
The Millionaire
1956:
The Dinah Shore Chevy Show
1958: Bat Masterson -
Bat Masterson
1949:
Suspense
1981:
Aloha Paradise
1953:
Letter to Loretta
1954:
Studio 57
1965:
Amos Burke: Secret Agent
1968: Glenn Howard -
The Name of the Game
1971: Ray Flemming -
Columbo
1977: Alfred Newberry -
The Love Boat
1977: Wade Hubbard -
The Love Boat
1977: Ted Anderson -
The Love Boat