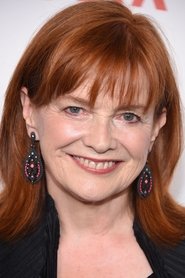 PROFILE |
NEWS
Blair Brown is an American stage, film and television actress. She was the leading actress in feature films such as "Altered States", "Continental Divide" and "Strapless", and she played the title character in the television comedy-drama "The Days and Nights of Molly Dodd", as well as supporting characters Nina Sharp "Fringe" and Judy King "Orange Is the New Black".
MOVIE CREDITS:
2004: Narrator -
Emma Goldman: An Exceedingly Dangerous Woman
1989: Dr. Lillian Hempel -
Strapless
1985: Christine Penmark -
The Bad Seed
1994: Carol Keating -
Moment of Truth: To Walk Again
1978: Lauren Elder -
And I Alone Survived
1980: Emily Jessup -
Altered States
1981: Nell Porter -
Continental Divide
1980: Marion -
One Trick Pony
2010: Narrator -
The Buddha
2004: Narrator -
R.F.K.
1984: Kat Hubble -
A Flash of Green
2000: Gertrude -
Hamlet
1992: Amy Scanlan -
Passed Away
1977: Charity -
Charlie Cobb: Nice Night for a Hanging
2018: Narrator -
The Massie Affair
1992: Gen. Katherine Taylor -
Majority Rule
1993: Judy Miller -
The Day My Parents Ran Away
1987: Diane Benton -
Hands of a Stranger
1973:
Dracula
2006: Eve -
Griffin & Phoenix
1985: Penny Hardesty Pope -
Space
2002: Narrator -
Young Dr. Freud
1975: Lady Teazle -
The School for Scandal
2008: Hildy -
Dark Matter
2005: Jeanette Rawley -
Loverboy
2003: Mrs. Henson -
Dogville
2000: Mimi Smith -
In His Life: The John Lennon Story
2004: Herself -
Dogville Confessions
2001: Hannah Parker -
Follow the Stars Home
1997: Zalinda Dorcheus -
Convictions
2016: Mickey -
My Art
1988: Ginny Wyatt -
Stealing Home
2006: National Security Advisor -
The Sentinel
1977: Anna Roosevelt -
Eleanor and Franklin: The White House Years
1995: Narrator -
Nobody's Girls: Five Women of the West
1999: Shelly McLaren -
The Astronaut's Wife
1996: Joan 'Joanie' McGrath -
The Ultimate Lie
1996: Grace Bradley -
A Season in Purgatory
2000: Dr. Anne Caruthers -
Space Cowboys
1973: Miss Farranti -
The Paper Chase
1977: Kimberly Lyles -
The Choirboys
TV CREDITS:
2002:
CSI: Miami
2008: Nina Sharp -
Fringe
2014: Fawn Mahoney Ames -
Forever
1999: Attorney Lynne Riff -
Law & Order: Special Victims Unit
1987:
The Days and Nights of Molly Dodd
1993: Guest Caller - Jill -
Frasier
2001: Rachel Dunleavy -
Smallville
1982:
American Playhouse
2011:
Falling Skies
1997:
Feds
2011: Emma Blake -
Person of Interest
1978: Barbara Lipton -
Wheels
1985: Penny Hardesty Pope -
Space
2008: Herself -
The Jewish Americans
1983: Jacqueline Kennedy -
Kennedy
1988: Ellen Wilson (voice) -
American Experience
1988: Narrator (voice) -
American Experience
2012: Kate Durning -
Elementary
2002: Jane Mecom -
Benjamin Franklin
1974: Kate Flanders / Dep. DA Kate Doyle -
The Rockford Files
2015: Marie Finch -
Limitless
2009:
Celebrity Ghost Stories
2013: Judy King -
Orange Is the New Black
2018: Director Sue Joyce -
Tom Clancy's Jack Ryan