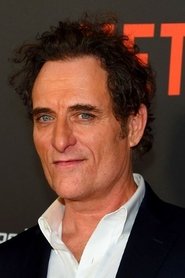 PROFILE |
NEWS
From Wikipedia, the free encyclopedia.
Kim Coates (born February 21, 1958) is a Canadian actor who has worked in both Canadian and American movies and television series. He has worked on Broadway portraying Stanley Kowalski in A Streetcar Named Desire and in the lead role of Macbeth performed at the Stratford Theatre. He starred as Tig Trager, sergeant-at-arms of the Sons of Anarchy, in the FX Network's drama series Sons of Anarchy.
Description above from the Wikipedia article Kim Coates, licensed under CC-BY-SA, full list of contributors on Wikipedia
MOVIE CREDITS:
1990: Frank -
The Amityville Curse
2002: Geary -
Tunnel
2013: Porter -
Robosapien: Rebooted
2007:
King of Sorrow
2014: Marcus King -
Mutant World
2016: Officer Downe -
Officer Downe
2007: General Koenig -
The Poet
2005: Harry Eden -
Caught in the Headlights
1994: Mr. Carver -
The Club
1997: Montessi -
Lethal Tender
2008: Tate -
A Gunfighter's Pledge
2012: Bruce Swinton -
A Dark Truth
2013: Sal -
Ferocious
1997: Ted Handy -
Dead Silence
1994: John Deluca -
The Spider and the Fly
2016: President Cueto -
True Memoirs of an International Assassin
Finch Palmer -
La danse du scorpion
2008: Constable Able Taft -
45 R.P.M.
1998: Bob Murdoch -
Airborne
2010: Mel Kaminsky -
A Little Help
1988: Tony Dicarlo -
Palais Royale
1999: Clayton Durrell -
Killing Moon
1990: Mantha -
Cold Front
2013: Aaron Van Dusen -
Rufus
1989: Ed -
Blind Fear
2016: Clayton Watson -
Strange Weather
2014: Father Sean Brennan -
A Fighting Man
2016: Calhoun -
Stagecoach: The Texas Jack Story
2017: Ozzie -
The Adventure Club
2001: Toffler / Fisk 2 -
Xchange
2000: Carlo -
Battlefield Earth
2010: Bennett -
Resident Evil: Afterlife
2008: Skinner McGraw -
Hero Wanted
2007: Carl Roderick -
Alien Agent
2007: Hank -
Late Fragment
2006: Jack Bryant -
12 Hours to Live
2011: Arment -
Sacrifice
1992: Graham Braithwaite -
Harmony Cats
2010: Andris -
Blood: A Butcher's Tale
2005: David Snow -
A Friend of the Family
2004: Beno -
Bandido
1995:
Black Fox: Good Men and Bad
2006: Zo -
Skinwalkers
1993: Zack -
Dead Before Dawn
1996: Detective Erdman -
Carpool
1994: Det. Griffi -
I Know My Son Is Alive
1990: Dennis -
Red Blooded American Girl
1995: Dave Stockley -
Sandkings
2019:
Cold Brook
2006: Officer Thomas Gucci -
Silent Hill
2010: Detective Dave Besson -
Sinners and Saints
1995: Palmer Davis -
Breach of Trust
2015: Roy Moehner (voice) -
Pirate's Passage
2012: Ronnie Hortense -
Goon
1993: Tommy Nolan -
Model by Day
2000: Auggie Rose -
Auggie Rose
2002: Zachariah Kull -
The Scream Team
2001: Dave Lewis -
Full Disclosure
2017: Ronnie Hortense -
Goon: Last of the Enforcers
1991: Chet -
The Last Boy Scout
2016: Uncle Steve -
The Land
1995: Drifter -
Waterworld
2003: Butler -
Open Range
1992: Ray -
Innocent Blood
2009: Agent Richard Sullins -
Prison Break: The Final Break
1994: Paul Gronke -
The Client
2020: Devil Face -
Fantasy Island
2005: The Watchman -
Hostage
2004: Peterson -
Unstoppable
2005: Officer Rosen -
Assault on Precinct 13
2001: MSgt. Tim "Griz" Martin -
Black Hawk Down
2001: Jack Richards -
Pearl Harbor
TV CREDITS:
1993:
Kung Fu: The Legend Continues
2000:
CSI: Crime Scene Investigation
2002: Ron Saris -
CSI: Miami
1984:
Miami Vice
1999:
Total Recall 2070
2001: Special Agent Carter -
Smallville
2007:
The Dresden Files
1990:
Counterstrike
1991:
Scene of the Crime
1995:
The Outer Limits
2003:
Cold Case
2004:
CSI: NY
1997: Kieran Keyes -
Night Man
2010:
Human Target
1992:
The Hat Squad
2008: Alex "Tig" Trager -
Sons of Anarchy
2005: Richard Sullins -
Prison Break
2017: Declan Gardiner -
Bad Blood
2017:
Ghost Wars
2017: Ed Logan -
Godless
1988: Scott -
War of the Worlds
1997: Smoke -
Earth: Final Conflict
2017:
Bad Blood