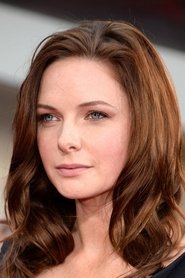 PROFILE |
NEWS
Rebecca Louisa Ferguson Sundström (born 19 October 1983), known professionally as Rebecca Ferguson, is a Swedish actress. She played the lead role in the soap-opera Nya tider and later played Chrissy in the Swedish-American soap Ocean Ave.. Ferguson has also appeared in movies, including A One-Way Trip to Antibes, the horror film Strandvaskaren and the upcoming film Vi alongside Gustaf Skarsgård. Ferguson's role in The White Queen has been met with some praise. 
Ferguson grew up in the Vasastaden district in central Stockholm. Today she lives with her boyfriend and young child in the seaside town of Simrishamn, on the Swedish south coast. Ferguson has said she wanted to get away from city life and the public spotlight following her soap opera success. In Simrishamn, she started drifting away from acting, ran an Argentine dance studio, and also worked on several short film art projects. Swedish director Richard Hobert spotted her at the town market in 2011. He recognized her and this led to her starring in his film A One - Way to Antibes.
MOVIE CREDITS:
2016: Katya Grinkova / Lauren Grinkova -
Despite the Falling Snow
2011: Maria -
En enkel till Antibes
2016: Anna Watson -
The Girl on the Train
2017: Katrine Bratt -
The Snowman
2017: Miranda North -
Life
2019: Rose the Hat -
Doctor Sleep
2020: Lady Jessica -
Dune
2010: Hemtjänstpersonal -
Lennart
2011: Woman -
Irresistible
2018: Mother -
Little Match Girl
2009:
Flyga Inte Dala
2010:
Arkiv
2010: Linda -
Puls
A Cold Night
2013: Linda -
Vi
2016: Kathleen Weatherley -
Florence Foster Jenkins
2015: Ilsa Faust -
Mission: Impossible - Rogue Nation
Mae -
Reminiscence
2019: Riza -
Men in Black: International
2017: Jenny Lind -
The Greatest Showman
2018: Ilsa Faust -
Mission: Impossible - Fallout
2021: Ilsa Faust -
Mission: Impossible 7
2004: Amanda -
Strandvaskaren
2019: Morgana -
The Kid Who Would Be King
2014: Ergenia -
Hercules
TV CREDITS:
2013: Elizabeth Woodville -
The White Queen
2014: Dinah -
The Red Tent
2007: Herself -
The Graham Norton Show
2002: Chrissy Eriksson -
Ocean Ave.