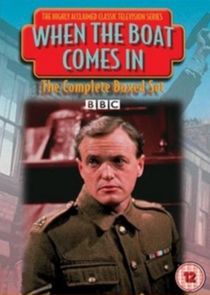 OVERVIEW |
EPISODE GUIDE
Network: BBC One (United Kingdom)
Premiered: 08.January.1976
Status: Ended
When the Boat Comes In is a British television period-drama produced by the BBC between 1976 and 1981.
The series stars James Bolam as Jack Ford, a First World War veteran who returns to his poverty-stricken (fictional) town of Gallowshield in the North East of England. The series dramatises the political struggles of the 1920s and 1930s and explores the impact of national and international politics upon Ford and the people around him.
The memorable traditional tune "When The Boat Comes In" was adapted by David Fanshawe and sung by Alex Glasgow for the title theme of the series. Fanshawe also composed the incidental music.
The BBC revived the series in 1981, with the fourth series telling the story of Jack Ford as he returns to Britain penniless, after six years spent bootlegging in the United States, and follows him as he sets up in London.
CAST:
Billy Seaton - Edward Wilson
Dolly - Madelaine Newton
Tom Seaton - John Nightingale
Jack Ford - James Bolam
Jessie Ashton née Seaton - Susan Jameson
Matt Headley - Malcolm Terris
Bella Seaton - Jean Heywood
Bill Seaton - James Garbutt