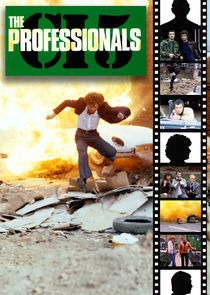 OVERVIEW |
EPISODE GUIDE
Network: ITV (United Kingdom)
Premiered: 30.December.1977
Status: Ended
The Professionals is a British crime-action television drama series produced by Avengers Mk1 Productions and London Weekend Television that aired on the ITV network from 1977 to 1983. In all, 57 episodes were produced, filmed between 1977 and 1981. It starred Martin Shaw, Lewis Collins and Gordon Jackson as agents of the fictional "CI5" (Criminal Intelligence 5, referencing the real life MI5).
The Professionals was created by Brian Clemens, who had been one of the driving forces behind The Avengers. The show was to have been originally called The A-Squad before it was decided to call it The Professionals. Clemens and Albert Fennell were executive producers, with business partner Laurie Johnson providing the theme music. Sidney Hayers produced the first series in 1977, and Raymond Menmuir the remainder.
Inside the secure corridors of Criminal Intelligence 5, a high-level British anti-crime unit, George Cowley hands out tough assignments to his two top agents: thuggish William Andrew Philip Bodie, who favors a `hit first, ask questions later' style, and the more cerebral Raymond Doyle, a former Docklands police constable.
CAST:
George Cowley - Gordon Jackson
Doyle - Martin Shaw
Bodie - Lewis Collins