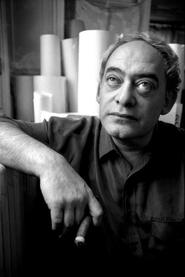 PROFILE |
NEWS
Roland Topor was a French illustrator, cartoonist, comics artist, painter, novelist, playwright, film and TV writer, filmmaker and actor, known for the surreal nature of his work. He gained notoriety as one of the home cartoonists of the subversive French magazine Hara-Kiri, renamed later Charlie-Hebdo.
Roland Topor wrote the novel The Tenant (Le Locataire chimérique, 1964), which was adapted to film by Roman Polanski in 1976. The Tenant is the story of a Parisian of Polish descent, a chilling exploration of alienation and identity, asking disturbing questions about how we define ourselves.
MOVIE CREDITS:
1997:
Le Cinéma au travail comme la mort
1965:
He! Viva Dada
1979: Renfield -
Nosferatu - Phantom der Nacht
1986: Le médecin -
L'araignée de satin
2015:
Les vendredis d'Apostrophes
1974: Homme dans le métro -
Le seuil du vide
1979: Il boss -
Ratataplan
1979: Himsel -
The Making of Nosferatu
1975: Le pochard -
La fille du garde-barrière
1966: Un émissaire du prince -
Qui êtes-vous, Polly Maggoo?
1974:
Sweet Movie
TV CREDITS: